Good image quality is prime for a promising ultrasound. DC-70 offers that and a lot more. Its unique touch gestures let you do more than you ever imagined, providing you with extremely easy and fast exams, enabling you to put patient care first. The clarity, as a result of high-end inherent technologies, would help you achieve heart exams with best in class image performance. The quality exams and unprecedentedly optimized user experience have already built up DC-70 as the true workhorse to cope with various challenges of your cardiac practice.
Scancare's patent transducer technology to increase image bandwidth and transmission efficiency.
Triple-matching layer design for higher sensitivity, wider bandwidth, and improved S/N.

 Total-cut design for lower cross-talk noise, better directivity, and improved lateral resolution

 Thermal-control design for better acoustic transmission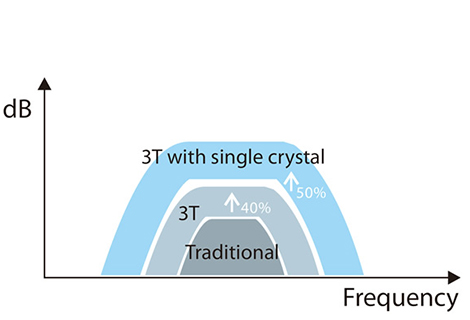 Scancare's unique adaptive signal processing technology with intelligent echo detection, designed to utilize the native signal-to-noise information to enhance the weak echo signals while suppressing the surrounding clutter noise, providing more balanced image brightness and improved visualization of myocardium tissue layers.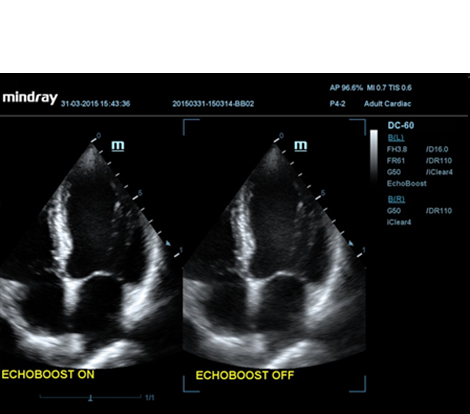 Maximum 12 times tasking for one transmitted beam, resulting in excellent time resolution and higher frame rate.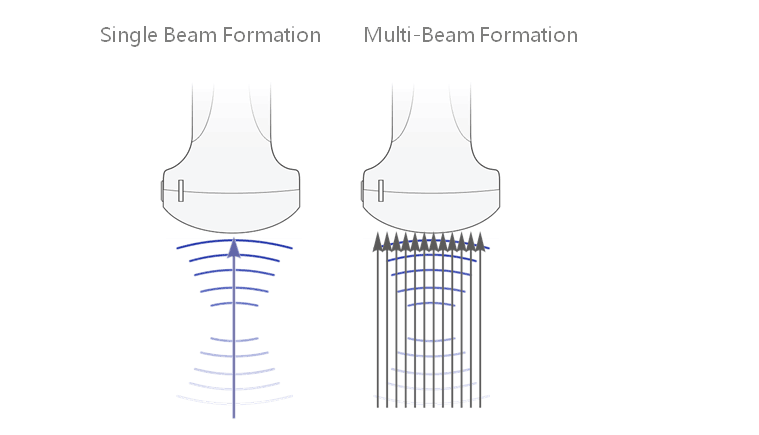 TDI and QA with Strain/Strain rate
TDI functionality on DC-70 allows you to quantitatively evaluate regional myocardium movement and global myocardium function, providing complete TDI modes for faster and direct diagnoses.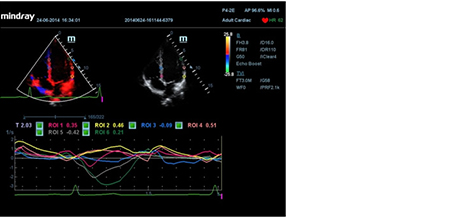 Gain accurate measurement of the myocardial function in response to external stress or pharmacy.
Gain precise anatomical observation by freely placing sample lines at any angle. Attain better images through simultaneous display of up to 3 sample lines.
Accurately evaluate myocardial motion at different phases, and simultaneously determine myocardial synchronization. High frame-rate providing you with accurate results.
Gesture Sensitive Touch Screen
The smart 10.4 inch motion sensitive touch screen lets you do more than you ever imagined. Be it scrolling through images, shifting the image to and from the monitor, zoom in/out, measure or starting specific user-defined functions with a defined hand motion, the DC-70 allows to get more done and much faster.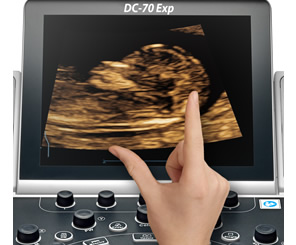 Simple measurement procedure for left ventricle enhanced by auto-trace functionality and easy manual correction.
Auto IMT (Intima-Media Thickness)
Auto measurement of anterior and posterior wall thickness providing accurate carotid.
A smart tool to let you focus more on the patient. Helps in significantly reducing the patient scan time through standardization and user-defined capability.
Enables optimum flexibility for post processing of the stored images including parameter adjustments, adding comments and measurements, allowing maximum productivity during scanning.
Size and physical distance now is no longer an obstacle. With MedTouch, a one-stop solution provides you with a smarter way to control the ultrasound device, access patient data and inbuilt tutorial software via your android operated smart device.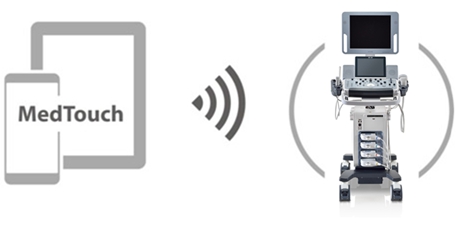 · 19 inch LED monitor with articulated arm
· 10.4 inch gesture sensitive touch screen with adjustable angle
· Flexible control panel
· Gel warmer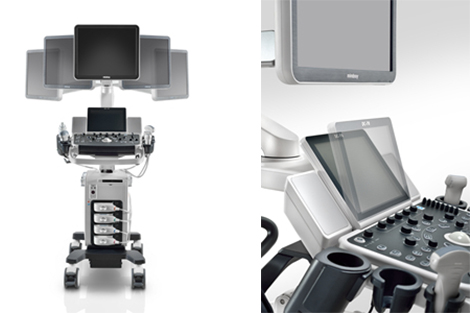 P7-3E
P7-3TE
P4-2E